RPR Editor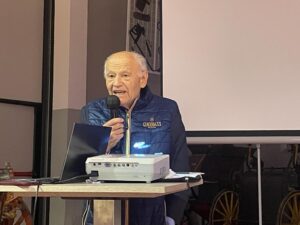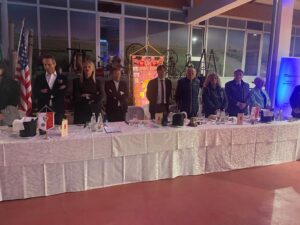 An evening dedicated to Modena excellence, organized on Tuesday 16 May 2023 by the Lions Club Carpi Host at the Giacobazzi cellar-museum in Nonantola (Province of Modena, Italy). Chaired by the lawyer Fabrizio Bulgarelli, the club organized a charity evening surrounded by the evocative ancient oak vats, the equipment for the grape harvest and the fascinating Ferrari carriages and cars.
Among the guests of honour, the founder of CAReGIVER and former Fiat executive, Renzo Porro. Thanks to the coordination of StudioRPR, Porro was able to share his vision on the new electric mobility. Also present were Tommaso Ebhardt, author of a biography on Sergio Marchionne published in 2019 after the death of the Fiat manager and recently republished in an updated version, Monica Zanetti, one of the few female mechanics to be part of the Ferrari racing department and now a member of Scuderia Belle Epoque, Matteo Panini from the Circolo della Biella and Alessandro Rasponi, a Modenese artist specializing in automotive-themed works, who received recognition from the Lions Club of Carpi.
The guests of the evening had the opportunity to take a journey into the past, exploring the ancient peasant world that gave birth to the renowned Lambrusco from the Giacobazzi cellar, as well as immersing themselves in the exciting universe of Ferrari engines, a combination that generated sparks on Formula 1 tracks around the world.
The event offered the opportunity to raise funds for two projects of the Lions Club of Carpi. The first consists in the donation of knitting machines for the specialization course of the Itis Vallauri in Carpi, while the second concerns the purchase of computers and photocopiers for the Sacro Cuore school.
The evening was a unique opportunity to celebrate local excellence, promote solidarity and contribute to the progress of the community through the charitable initiatives of the Lions Club of Carpi.
For further information: Voce di Carpi, "The Lions Club Carpi Host guest of the Giacobazzi cellar-museum in Nonantola"