RPR Editor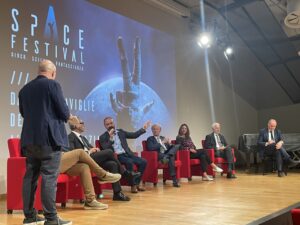 On May 5th, the Engineer and Senior Vice President of Arianespace, Marino Fragnito, participated in the "Space Tourism" Round Table at the Turin Space Festival. StudioRPR took care of the presence of Fragnito during the event which took place in the Aula Magna of the Polytechnic of Turin. Already in December, Fragnito had been a guest of the Polytechnic for a conference on the space industry in Turin, the Italian capital of space.
During the event, the new opportunities that the space industry offers for the global economy and the tourism sector were explored. The latest technological innovations and emerging trends in the space sector were discussed, including the growing presence of commercial and tourism activities in space. Furthermore, the speakers presented the new horizons of human exploration in space and the effects that this type of tourism could have on the terrestrial tourism industry.
Fragnito shared his experience as head of Business Unit Vega C, and expressed his visions for the future of space in Europe.
Together with Fragnito and the moderator Marco Berry, were also present Fabio Grimaldi (President, AD Altec), Guido Saracco (Rector of the Turin Polytechnic), Mario Ferrante (President of the Aerospace Sector, Italian Association of Quality Culture), Fulvio Boscolo (CEO, LMA SRL), and Mauro Piermaria (Office Coordinator for Space and Aerospace Policies).
For more information on Fragnito and the Space Festival: https://www.spacefestival.it/biografia/marino-fragnito