RPR Editor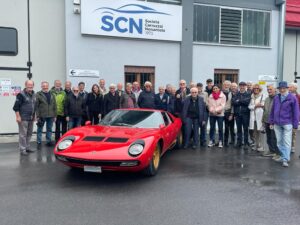 On 16 May 2023, a group of CAReGIVER engineers and former Fiat executives visited two automotive companies in Emilia Romagna.
The day, planned and coordinated by StudioRPR, began with a visit to the Società Carrozzai Nonantola, where Renzo Porro, founder of CAReGIVER, and 30 others among the more than 200 members of the group, were welcomed by the founder Marzio Ascari and by Valentino Balboni, historic Lamborghini test driver. After a visit to the company and the usual photos, the group continued their visit to Sant'Agata Bolognese, to the Lamborghini headquarters.
CAReGIVER members were able to visit the production line of the new Revuelto and the museum. They also met Facundo Elias, Argentine designer, Sara Colombini, Marketing Partnerships Manager, Alberto Della Valle, Squadra Corse engineer and Ranieri Niccoli, Manufacturing Director, who welcomed them in the Octagonal Room bringing greetings from the Board. After the delivery of a model of the Lamborghini Revuelto handcrafted by the sculptor Donato Donno, CAReGIVER members concluded the visit with a souvenir photo.