RPR Editor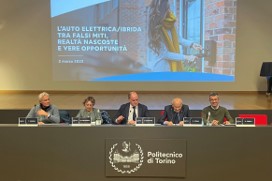 The conference "The electric/hybrid car between false myths, hidden realities and real opportunities: a look at the future of mobility" was held on 2 March 2023, organized by the CAReGIVER group in collaboration with the Turin Polytechnic.
The event offered the opportunity to learn more about electric and hybrid cars, examining both the misconceptions that often surround them and the real opportunities they offer. During the event, industry experts shared the latest discoveries and research in the field of sustainable mobility. Present among the various guests, Renzo Porro, founder of CAReGIVER, Paolo Massai, Fabio Mingrino and Mario Petronio. Topics such as the range of electric cars, the charging infrastructure, the environmental impact and the economic benefits of adopting zero or low emission vehicles were addressed. The Rector Guido Saracco and Professor Andrea Tonoli spoke for the Polytechnic.
Two interventions by the institutions: the municipal councilor Nadia Conticelli and the regional councilor for the budget Andrea Tronzano. The conference was conceived, coordinated and organized by StudioRPR with the speakers of CAReGIVER.
For more information, visit: https://www.polito.it/ateneo/comunicazione-e-ufficio-stampa/appuntamenti/news?idn=20229