RPR Editor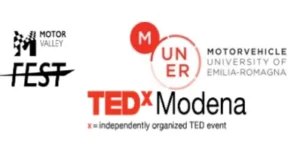 On May 5th, the new edition of TEDxModena 2023 was presented at the UNIMORE headquarters in Modena. The event, entitled "Sustain-Ability" will be held on May 13th at 3pm at the Storchi Theater, in conjunction with the Motor Valley Fest. For this edition, StudioRPR is once again supporting TEDxModena with communication activities and media relations. The conference will give voice to valuable ideas presented by relevant international speakers, as well as exploring the different facets of the theme, focusing on the challenges and opportunities related to sustainability.
The fourteen speakers, many of whom are prominent at the international level, are:
Daniela Dallavalle – Artist, stylist and designer
Elena Salda – President of Associazione Responsabilità Sociale d'Impresa
Massimo Vitali – Writer
Massimiliano Delsante – Entrepreneur and founder of MyInvenio, RoboMagister e OTConsulting
Valentina Ciurlante – Sustainability specialist at NATIVA
Sofia Costanzini e Francesca Despini – PhD researchers at Università Modena e Reggio Emilia
Giulio Allesina – Engineering professor at Università Modena e Reggio Emilia
Leslie Anne Duvic Paoli – Environmental law professor at King's College
Adeleh Mojtahed – Specialist for sustainable digital growth
Federico Fanti – Paleontologist and National Geographic Explorer
Alessandro Beloli – Scientif populizer at GEOPOP and writer
Cristina Di Loreto – Psichologist and Psichiatrist, founder of Me First®
Adriana Santanocito – Inventor, entrepreneur and founder of Ohoski
Ologramma – Chorus and Instrumental Group
The event, organized and promoted with the help of StudioRPR, is directed by the curator Fabrizio Bulgarelli and the professors Giacomo Cabri of Unimore and Francesco Leali of MUNER.
The tickets are available on Vivaticket. Students under 26 can purchase the tickets at a lower price.